Guest Author: George Nenni
Most car dealers today know the importance of Google My Business (GMB), but many are missing a key element that could help them drive far more organic search results. Winning on GMB is not about winning on branded search because Google takes care of this simple task. If you search on Google for any dealership name, their GMB property appears at the top of search results. Winning on GMB is all about ranking high for non-branded, category search.
What type of category search should dealers focus on? Category searches such as "Ford dealer near me" or "Jeep tires in Nashville Tennessee" or "F-150 brake service." If dealers want to increasingly rank high for critical searches, they must create separate departments for sales, service, parts, and body shop. While we've seen this topic debated, today there is no doubt that dealers who rely on a single GMB listing will lose rank to their competitors around fixed operations categories. If you disagree, please read on — we'll let the data speak for itself in making this case.
Departmental GMB Listings Are Key to Local Search Dominance
We spend a lot of time researching GMB listings, testing different queries to determine which dealerships rank for various search terms. The data is clear: When businesses with multiple departments create GMBs for each department, they outperform their competitors. How do they outperform? By winning on category searches in the "local map pack" of results. By creating departmental GMB listings, a business creates more "real estate" on GMB.
If you want to find some great examples, look outside of automotive. The big-box retailers are already employing this practice successfully. Companies like Walmart, Home Depot, and Lowes all take advantage of departmental GMBs.
Here's an example from Walmart in my hometown of Middletown, Ohio.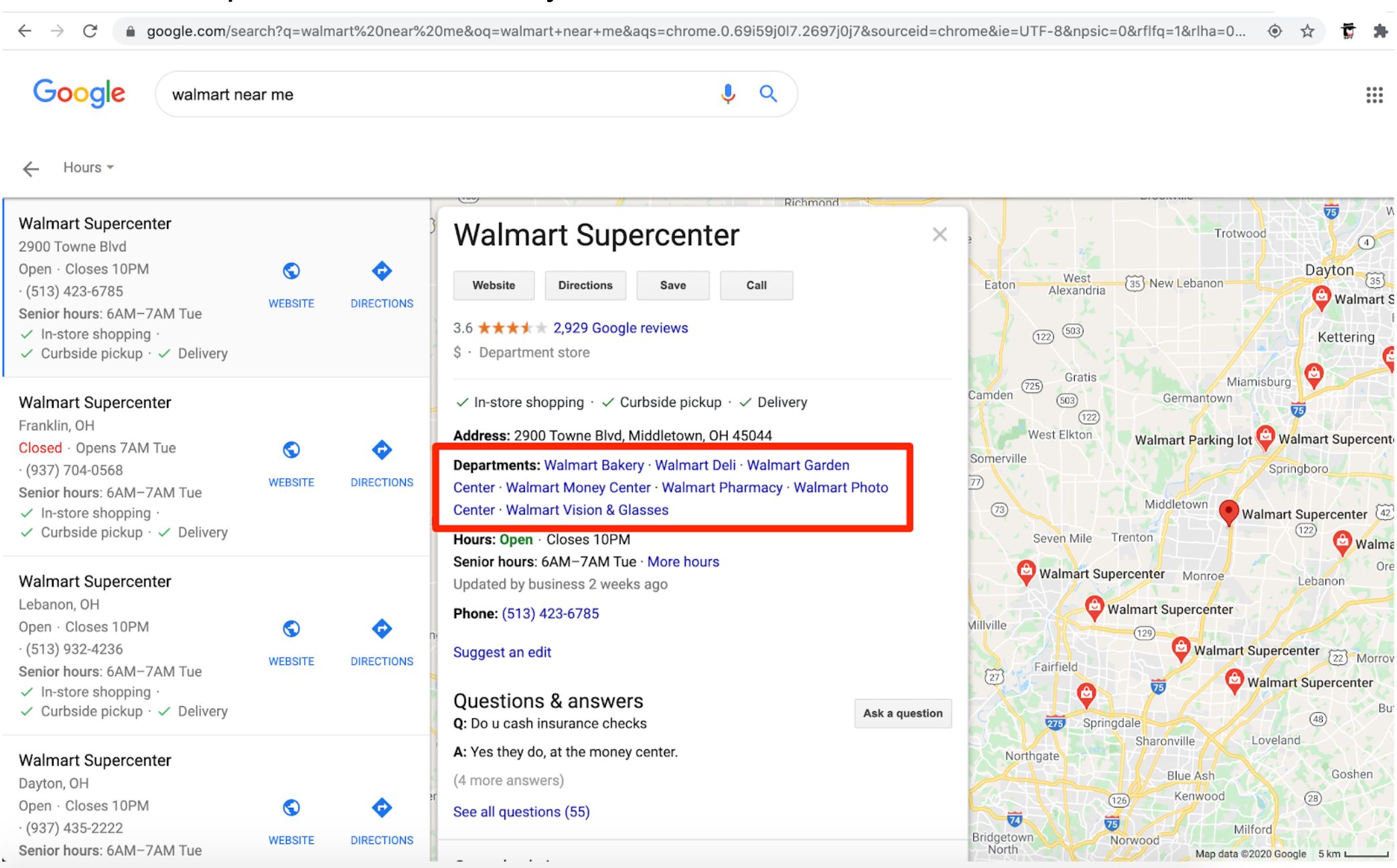 Notice that for the main GMB page for this Walmart, you can see they've created an additional 7 GMBs for their various departments. Why would Walmart take the time to build and maintain 8 total GMBs for each of their stores? To maximize their local SEO results on category searches, of course. Let's look at some examples.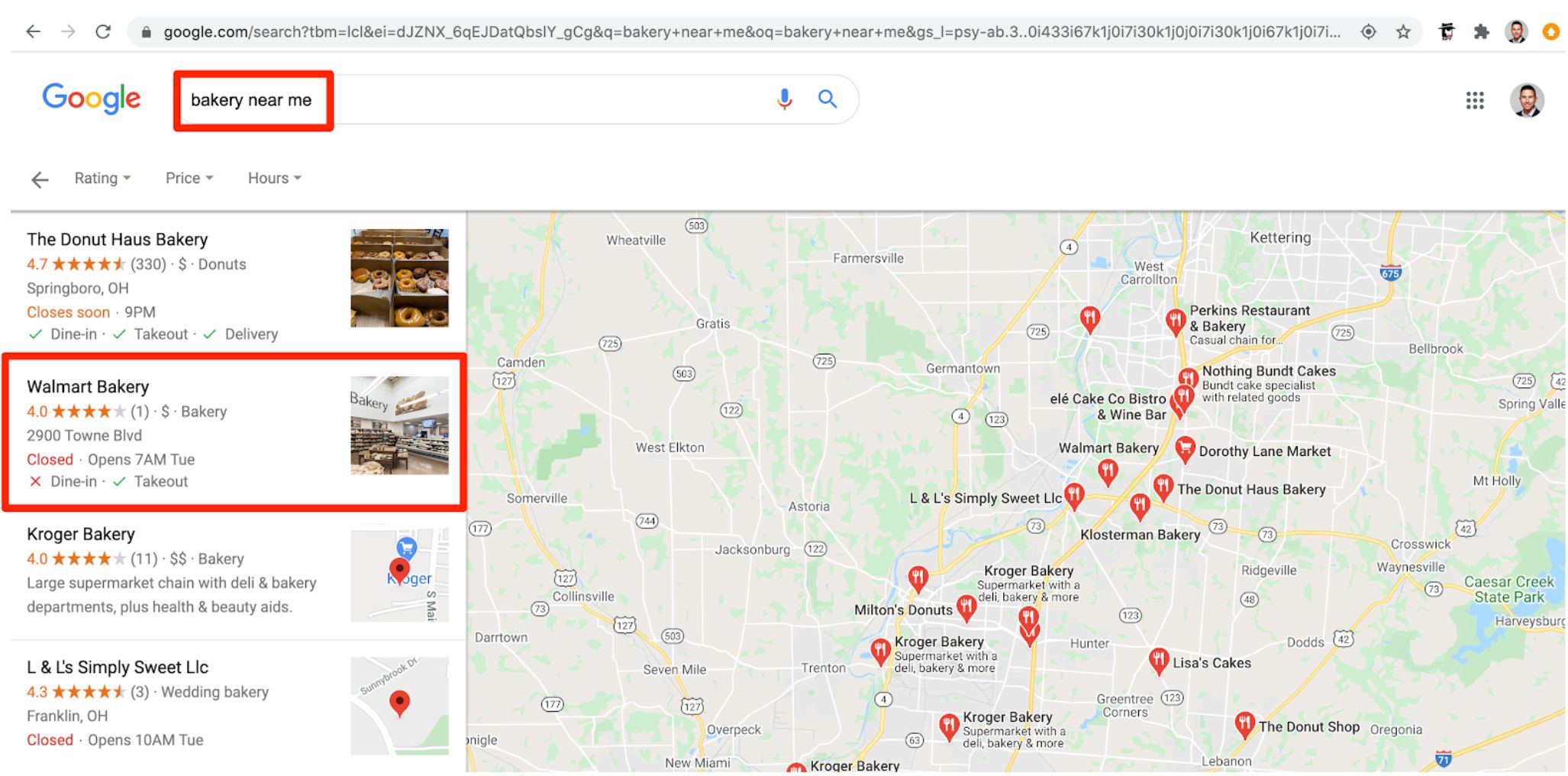 A Google search for a local bakery in Middletown delivers the above results. As you can see, Walmart Bakery is also included in the map results with one of their department GMB listings.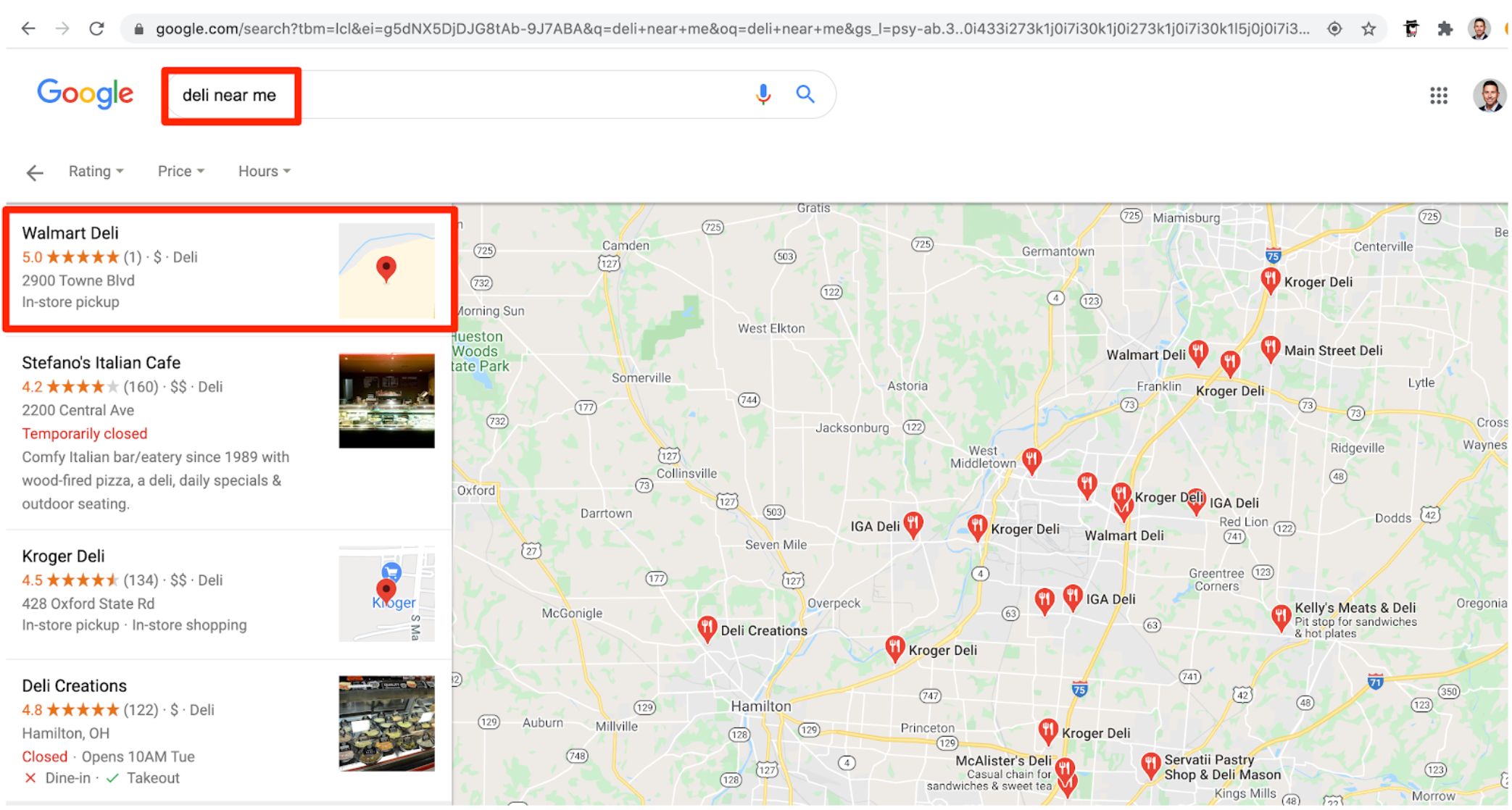 Another search for a deli in Middletown delivers another win in the local pack for Walmart, displaying their "Walmart Deli" department GMB page.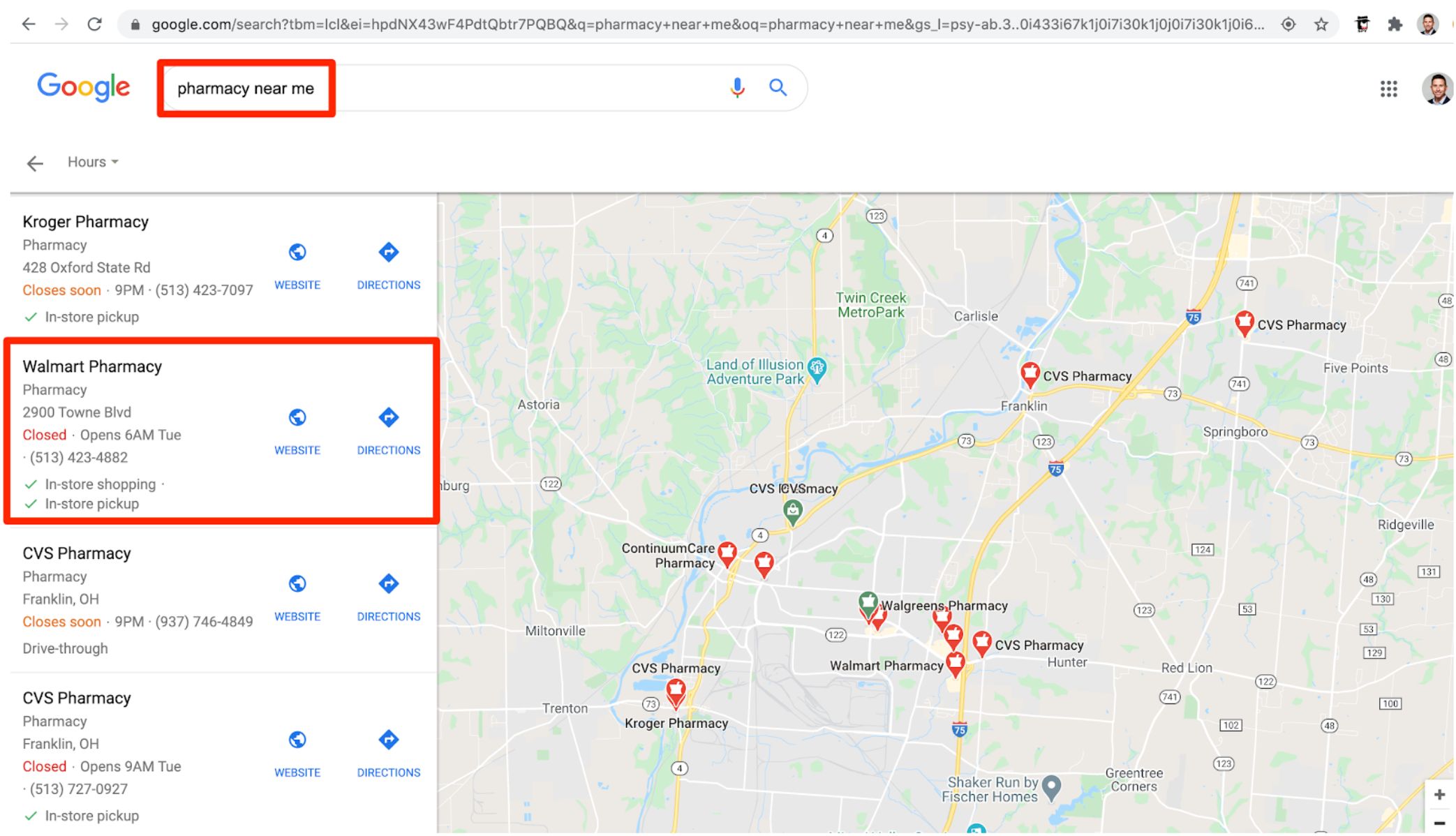 And finally, a search for a local pharmacy once again delivers a Walmart department GMB page, their "Walmart Pharmacy" department page.
Examples in automotive can be harder to find because not every dealer has taken advantage of the power of departmental GMB listings. Here is one from our home market: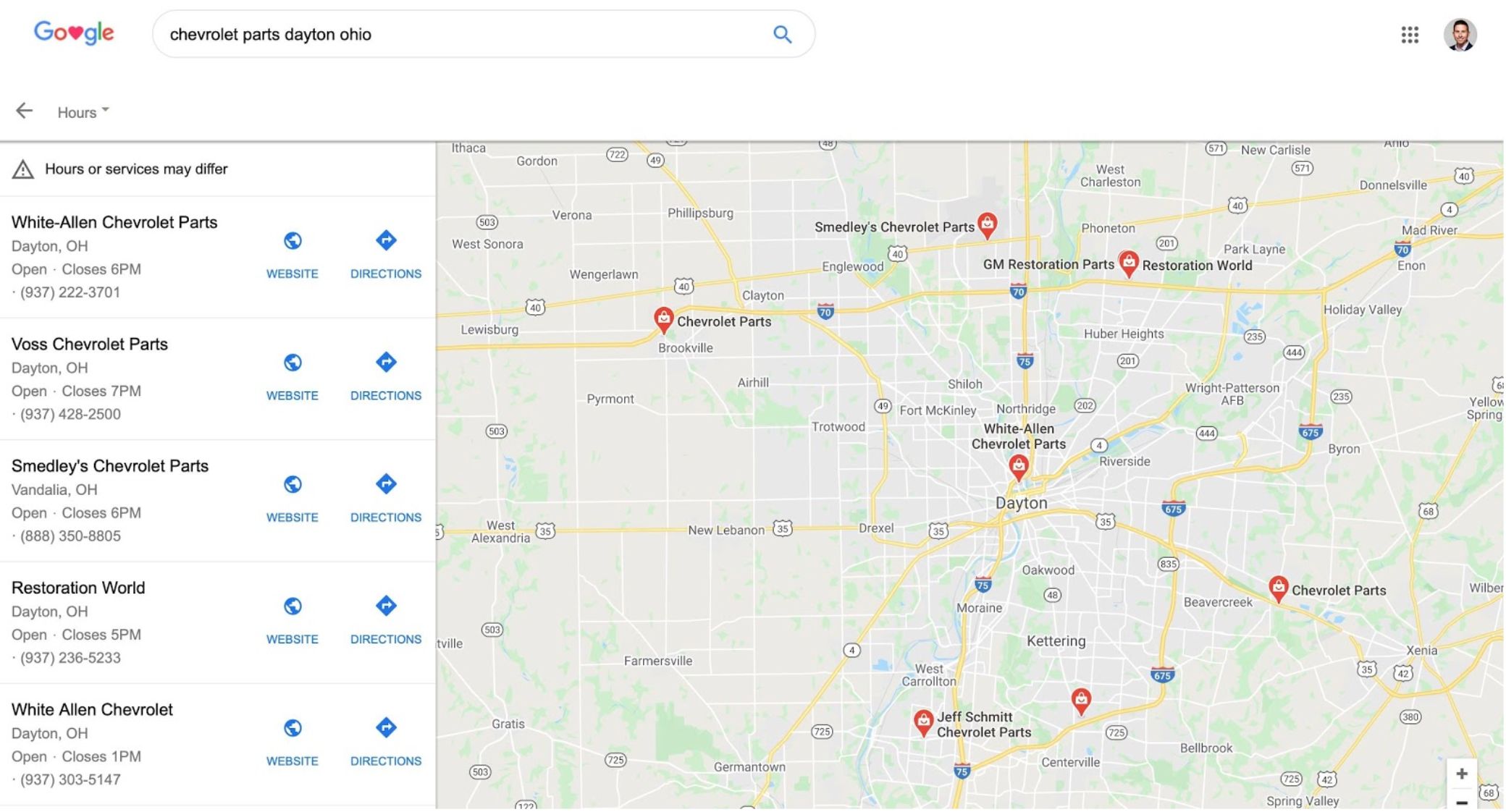 We searched for "Chevrolet parts Dayton Ohio" and received the above results. You will notice that the number one result is White-Allen Chevrolet Parts, a department listing from their main Chevrolet listing. You can also see that dealer's main listing in the fifth position for White-Allen Chevrolet. So, in essence, this dealer's departmental listing helped them appear in the first position, and their main listing still made the cut. This dealer has effectively doubled their real estate for these local Google search results.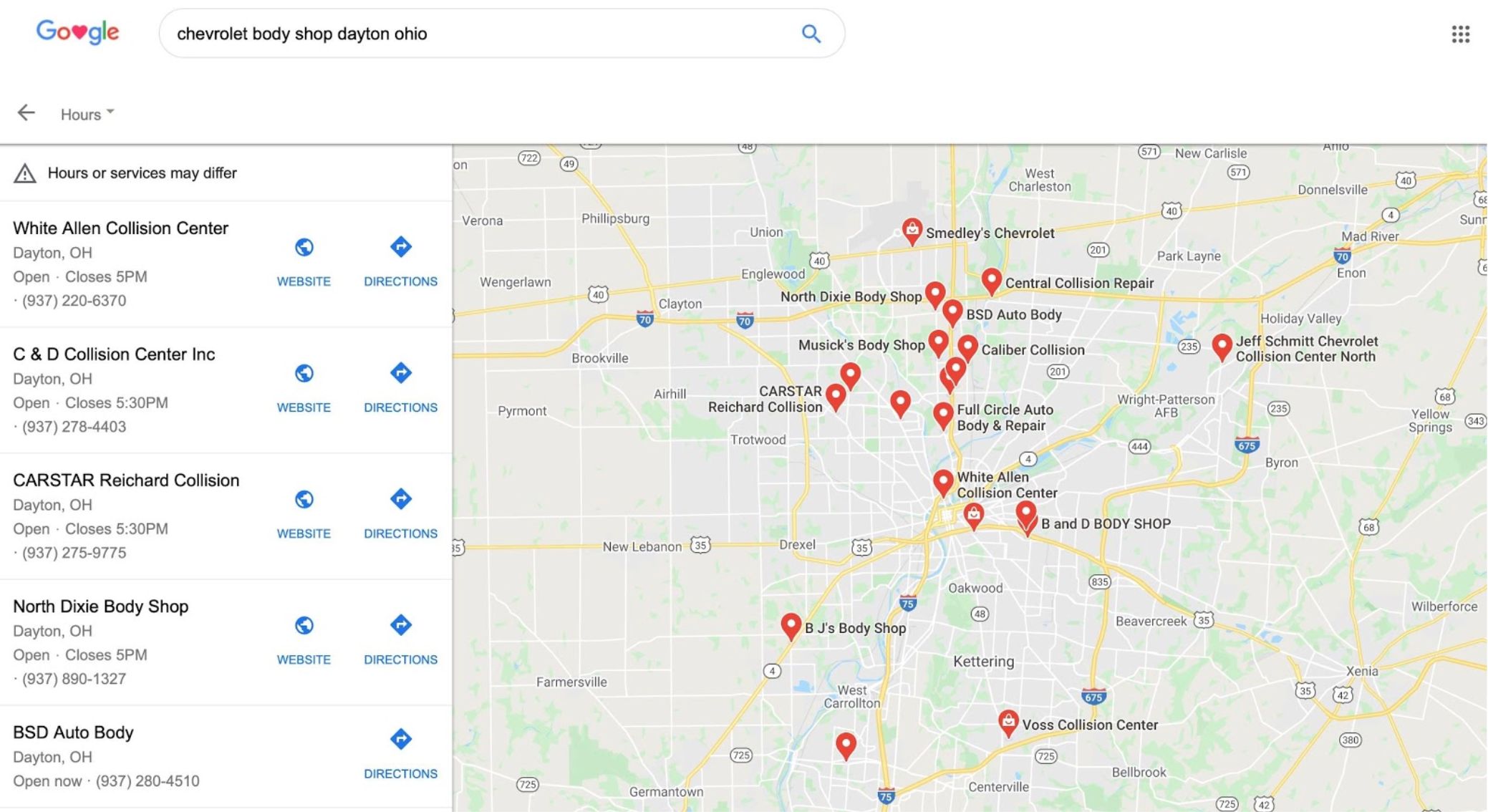 Here is another search in Dayton Ohio for "Chevrolet body shop." White-Allen also won this search, with their separate GMB for their collision center.
The results in these examples speak for themself. Local businesses with multiple departments and profit centers, either in the same building or not, should create departmental GMB listings to win more non-branded, category searches.
—
George Nenni is the author of A Car Dealer's Guide to Google My Business and the industry thought leader behind Generations Digital. With more than 30 years of experience in digital marketing, Nenni has the knowledge necessary to help anyone master GMB. As we continue to focus on how dealerships can leverage their fixed ops for success, Reunion Marketing is grateful that we can host George's insight and expertise on this topic.