More ad variety.
More diversification in audiences reached.
Higher ad volume.

Higher return on investment.

Data powered
& partner driven results.
Overall cost-per-click
average is $0.25
Retargeting cost-per-click
average is $0.11
Overall click-through rate (CTR)
for ads is 3 – 4x
the industry average
Return website visits are 3x
the industry average
Vehicle Retargeting
Our approach is based on intent rather than stimulus, reaching car shoppers where they are, driving them toward new and used inventories, and retargeting them with the lead generation that ties directly with any dealer's CRM so you know when your Facebook Ads are contributing to sales.
Ad Customization
With Intelligent Social, unique and tailored messaging for each ad and audience targets per the ad set. This means infinite ad combinations with enticing copy are possible with an Intelligent Social strategy fueling your Facebook advertising. And we do it at a fraction of the average industry cost.
Fixed Ops & Facebook
Don't limit your dollars to only marketing vehicle sales. Push service department incentives through to your customer base that are ready to drive into the service lane. Power your fixed ops marketing with our PRO Drive solution.
On-Facebook Destination
Automotive Inventory Ads (AIA)
On-Facebook Destination AIA allows users to stay within the Facebook platform for their shopping experience. When a shopper clicks on an automotive dealer's ad, they'll land on a dynamic VDP on Facebook that's created using information from the dealer's inventory feed. The near immediate load-time means more time shopping and less time waiting.
Average Cost
Per VDP View:
Average % Change in
Cost Per VDP View: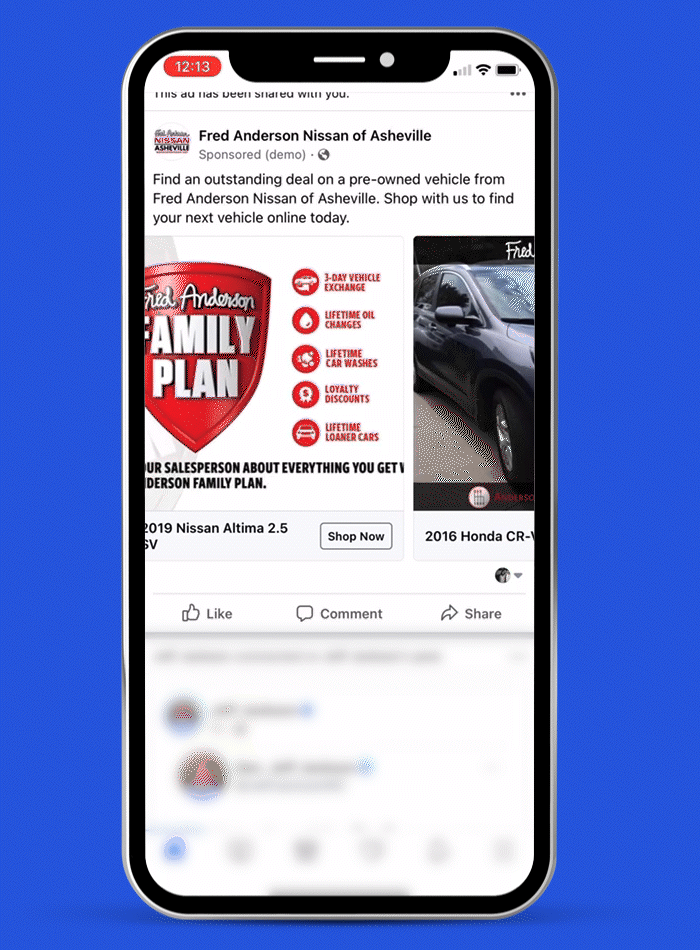 That's the power
of Intelligent Social.
Why Reunion Marketing for your automotive social media?
At Reunion, we pride ourselves on being thought leaders. If you're interested in learning more about Intelligent Social, schedule a demo today.