Reimagined Opportunities: Reunion Marketing Partnerships
A partnership program with Reunion Marketing gives your products and solutions a boost when best-in-class digital marketing strategies are efficient and adaptive to industry and market demands. Any of Reunion Marketing's digital strategies add more fuel to your innovations so you can scale faster and drive greater dealer satisfaction.
Solutions-Based Partnership
Solutions-Based Partners have our arsenal of digital knowledge at their disposal. Whether your needs better align with SEO, SEM, or Social Media, we'll work with your company to determine the digital solution best suited for your business and develop a custom scope to drive the results you're looking to achieve.
Automations Support Partnership
Automation Support Partners get the advantage of utilizing Reunion's in-house automation system to support fast and seamless disseminations. Reunion can support automation needs like:
Google Business Profile Automations
Specials Syndication
Custom Content Builder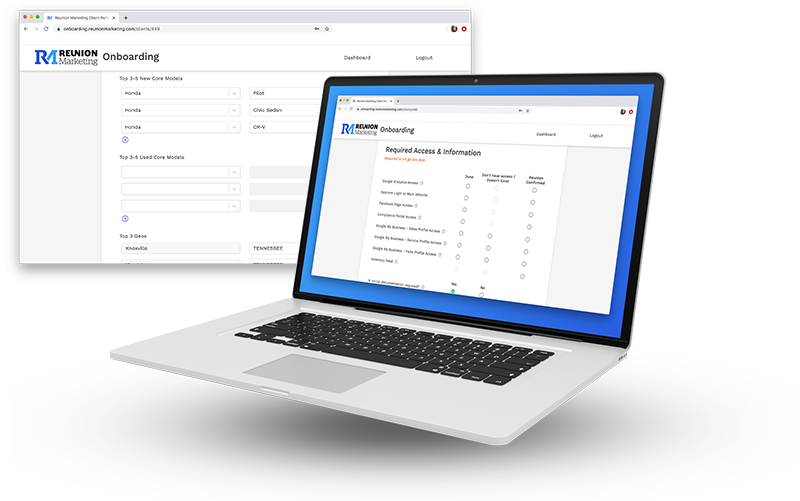 Integrations that maximize
time efficiency
Execute digital strategies faster than ever before. Reunion has automated many of the labor-intensive processes
Discover new
revenue streams
Drive new demand with expanded, lead-driving solutions and joint go-to-market opportunities
Increase lead quality
for clients
See the impact our strategies have on increasing quality, in-market leads that in turn support your goals and dealers revenue targets
Create custom scopes
of work
Due diligence to ensure partnerships are mutually beneficial, with dealers' interests always coming first
The Reunion Marketing Partner Program is a fast-growing ecosystem of the top tier service providers working together to enable organizations to build solutions aimed at making dealers' jobs easier. By joining the program, Reunion Marketing partners gain access to teams who operate with an unrivaled customer support approach to providing strategy insights. Partners also get early access to recent industry data and POV releases detailing digital marketing updates.
Want to learn more about
Reunion Marketing and our offerings?
Schedule a demo!
re·un·ion
/rēˈyo͞onyən/
Noun
The act or process of being brought together again as a unified whole.