This past year, COVID-19 lockdowns and regulations had an enormous impact on vehicle inventory at dealerships across the country. In response, many savvy dealers took the approach of putting more marketing dollars into finding shoppers who were ready to value trades of their current vehicle, circumventing the issue of lower inventory. In this blog post, we're providing our readers with the most successful digital strategies for maximizing ROI on trade-ins. 
Top Strategies to Create Opportunities for Trade-In Conversions
Don't Overlook Conversion Rate Optimization 
SEO product tool provider, Moz, defines conversion rate optimization (CRO) as the systematic process of increasing the percentage of website visitors who take a desired action — be that filling out a form, becoming customers, or otherwise. 
CRO is a foundational element to Reunion's overall automotive SEO strategy. When trying to drive awareness that trade-ins are encouraged, first you should:
Ensure your VDP is optimized so that your trade-in tool button is not cluttered and lost in a sea of other buttons.

Check that your Google Analytics account is set up to track Trade-In conversions.
In the year 2021, our default recommendations for VDP buttons are:
Buy From Home (form submission conversion)

Call Today! (click to call conversion)

Value My Trade-In (trade-in valuation conversion/form submission)
Frictionless design is not only vital for fostering good UX, but Google prefers and ranks pages that are best optimized for the mobile experience. That means fewer distractions and more focused goals and buttons on your website's VDPs.
Driving Trade-In Awareness 
Video-Pre Roll
Your digital marketing strategy has the most power when you're relating to the needs of different audiences via different channels. Many dealers rely solely on Google Ads to generate leads, but when it comes to trade-in awareness and marketing, third parties often inundate the SERP space.
That's where an effective video marketing strategy comes in handy. With lower competition and cost-per-thousand-impressions (CPM), video has been a powerful tool for bringing users into the consideration funnel of starting their trade-in process. Why? Because it encourages them to go with a local dealer, as opposed to a big-box provider where they're less likely to get top dollar.
For a sample client using YouTube pre-roll ads to market trade-ins, over a span of one month there were: 
18,000 video impressions

$0.12 cost per video view

721 mobile clicks to call occurred
That kind of ROI is hard to beat, but you can also turn to social media for additional leads.
Facebook Lead Ads
Facebook Lead Generation Ads are well suited for acquiring trade-in leads. From Facebook's Business Help Center: 
"You can create campaigns using a lead generation objective that allows consumers to fill out a form, called an 'Instant Form,' with their contact information. You can also track lead conversion events on your own website using the Facebook pixel." 
Lead generation ads have had some of their greatest success on Facebook within the automotive industry. People just tap your ad and a form pops up — it's already pre-populated with their Facebook contact information and ready to be sent directly to your BDC or Sales team to follow up. 
The best performing trade-in lead ads typically have short and incentive-based ad copy and a simple, direct single image.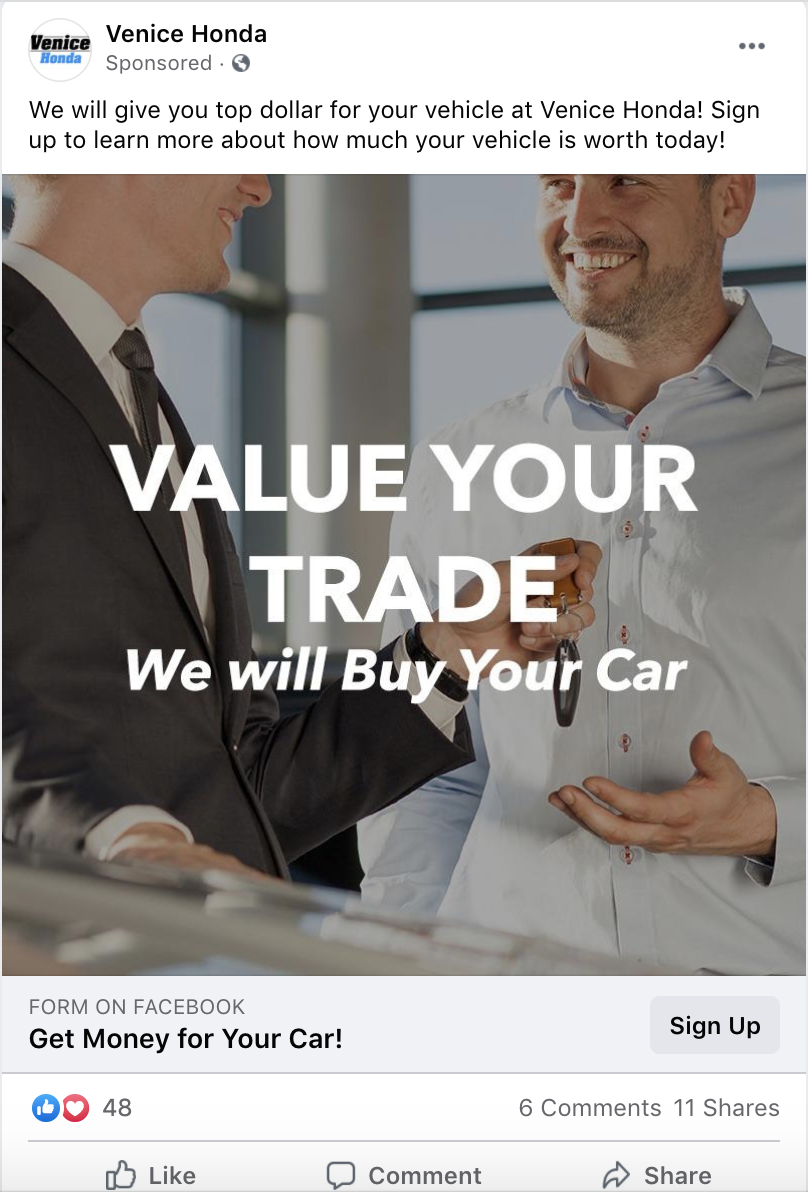 If this is a new discovery for you or you're more interested in having trade-ins flow through your trade-in tool, test both a landing page experience ad and a lead ad. Having a willingness to adapt and test new ad formats is the best way to bring true value to your digital investments.
Focus on the Fundamentals
Leveraging digital strategies that work for vehicle sales to acquire more trade-in business doesn't mean reinventing the wheel — it just requires adaptability and time. But it's always important to remember that the beating heart of your dealership's website success is the foundational elements of the vehicle pages themselves.
If you're looking for additional assistance with SEO, Conversion Optimization, or Facebook or Paid Search advertising, reach out to us to schedule a demo or to have our team of digital marketing experts run a complementary audit of your website and advertising efforts.