A well-optimized Google My Business listing has become a staple for dealers to have online organic success. That's why the news of Google testing Local 2-Pack results, rather than 3-Pack results, should be a driving force for further professionalizing and optimizing your sales, service, and parts listings.
Before we delve more deeply into this Google beta test, let's review some local SEO basics. Then, we'll talk about what this test could mean for your GMB listings.
What Are Local Packs?
When you conduct a search for a local business, Google generates a list of potential businesses that best fit your search query. Those businesses typically show up in a pack of 3, hence the name Local-3 or Local Packs.
Because there are typically only 3 results shown out of the dozens of businesses that could fulfill the needs of a query, the local pack is one of the most undeniable and consistent ways to generate calls to your dealership, directions to your location, or clicks through to your website.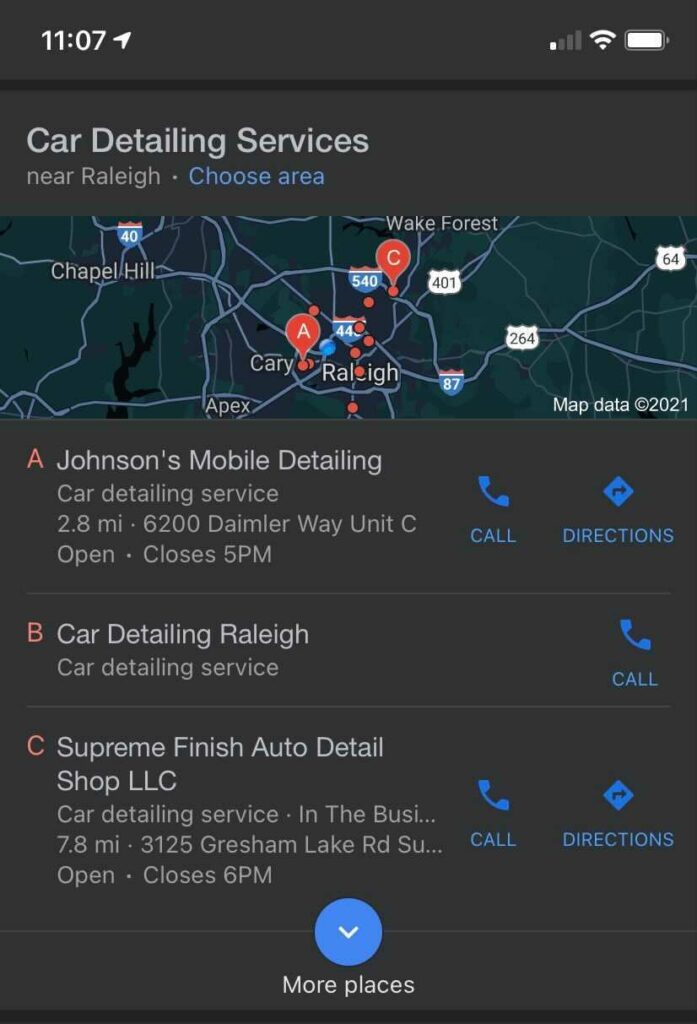 Visibility in the local pack is a strategic way to increase your chances of growing brand awareness, driving more website sessions and leads, and ultimately, acquiring new customers. However, maintaining a visible pack impression for your business means investing consistent time and energy into making your GMB listing a resource for users.
The Bigger Picture
Word broke in the SEO community at the end of March that Google was testing showing only 2 businesses in local packs rather than 3 on mobile. So far, this local SEO update appears to be focused on restaurant searches, and the beta test has been observed on both iPhone and Android devices. As of now, we haven't noticed this being tested on desktop.
But the bigger picture is this: Google tests things constantly! Algorithm updates are something everyone who uses a search engine knows to expect, but it's just as important to monitor format and expressional updates when trying to grow traffic and leads.
A test like this one could seem minor but actually have a major impact on organic visibility. If this rollout were to become a permanent feature, the chances of your dealership appearing in a local pack just decreased by 33%. The statistical significance that could make on the sessions, calls, and direction requests to your dealership could be dramatic and result in the need to invest more money in other advertising avenues like paid search marketing.
How to Stay Ahead of the Curve
As more updates about this test come forward, Reunion is closely monitoring our dealer network's local packs. We always want to ensure that, if dramatic changes are on the horizon, we can help you avoid potentially catastrophic impacts to your traffic. The absolute best way to maintain your dealership's visibility in local pack results is to optimize your listings frequently and display accurate information.
If you have multiple departments, make sure you have those listings claimed so you can optimize all listings associated with your business. Some other quick and easy wins are:
Selecting appropriate business categories
Uploading high-quality images regularly
Answering user questions in the Q&A section
The possibilities on GMB are endless nowadays! All these action items also garner SEO success and further your likelihood for local pack impressions.
If you're interested in learning more about Google, Apple, or Facebook tests that could impact your overall digital marketing game-plans, reach out to us at sales@reunionmarketing.com. Need more information or help optimizing your GMB listings? Schedule a demo and we'll provide you with a diagnostic report of your GMB listings, as well as give you a comprehensive overview of our SEO services.