Search engine optimization (SEO) for retail automotive has long tasked dealerships to compete with other dealerships. As a dealer, you've likely been asked how you compare to the local competition down the street — after all, almost 30% of all clicks go to the first Google result. There is, however, a glaring issue with this approach. It's often not other dealerships taking those opportunities.
The third-party sites are winning the SEO long-game. 
How Third-Parties Are Winning The Long-Game
Those same third-party sites that you're competing with are also your primary competitor for the top spots in organic results. So that lends the question, "Why are third-party sites winning?" 
If we distill it down to the most basic components, the answer is two-pronged. It comes down to relevance and authority, both of which stem from one thing they have that dealerships don't: volume.
Google's primary purpose is to deliver results that align with search intent. It does so by crawling websites that have content (pages) that seem to satisfy that intent; in other words, content that's relevant. When you have more content that's relevant to the search that triggered the results, the more authority it will likely have — though this isn't the only factor that affects your website's authority. 
It's common knowledge that the terms most often used by in-market car shoppers are as follows: [year] / [used] [make] [model] — they will also typically use intent modifiers like "near me" or the city in which they reside when they are closer to a purchasing decision. When we consider the known keyword data, it's no wonder third-parties are winning the long-game. They have hundreds of pages, aggregating hundreds of vehicles from dozens of dealerships, that are unique and satisfy the demand of the search.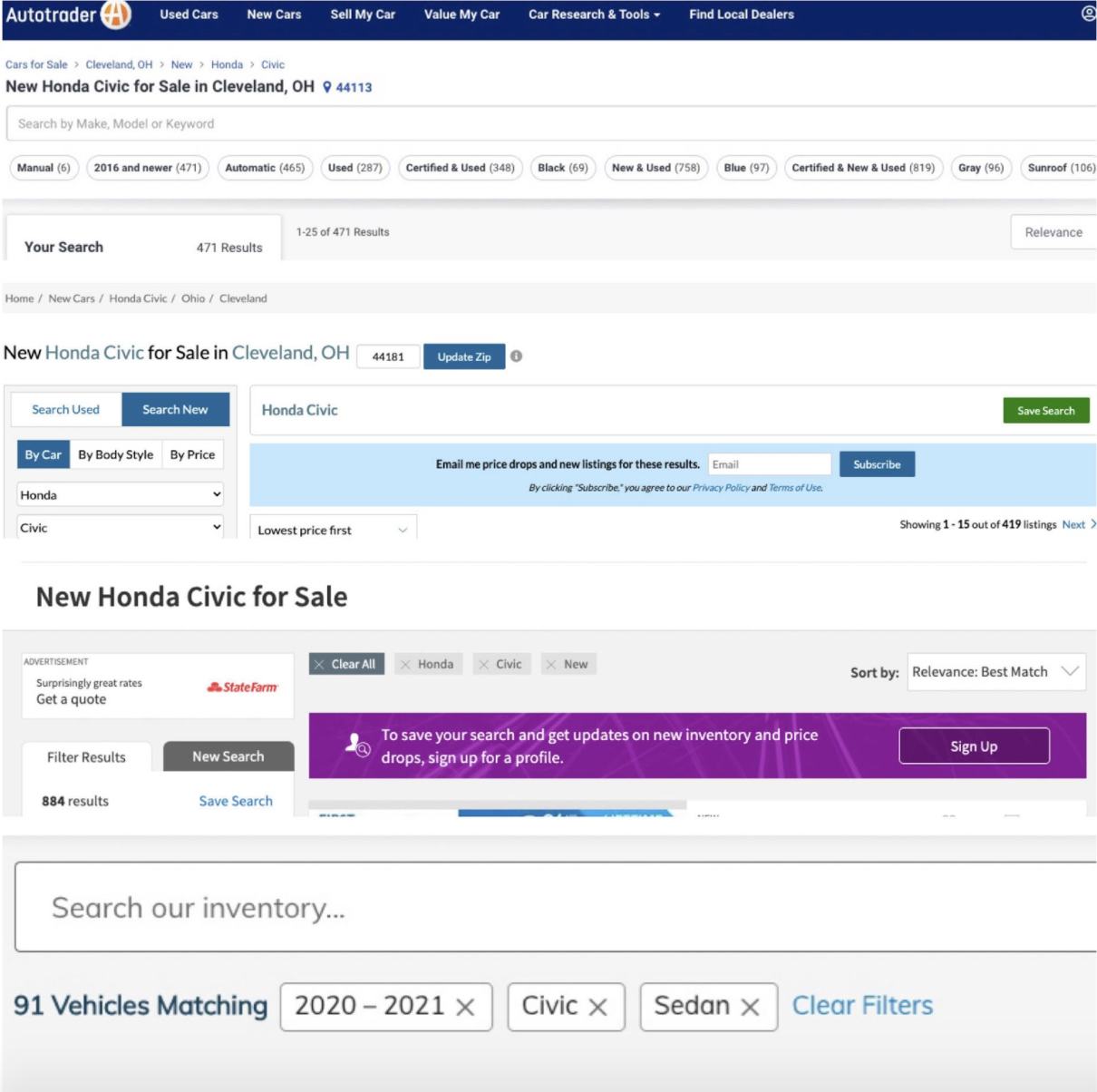 The image shown above shows, from top to bottom, inventory available on Autotrader, Cargurus, Cars.com, and a local Cleveland, Ohio dealer. When applying the filter to look at only new Honda Civics (and no more than 25 miles from my location), you can see the volume of vehicles on the third-party sites versus the franchise dealer:
Autotrader — 471

CarGurus — 419

Cars.com — 884

Cleveland Franchise Dealer — 91
These are now-established websites with tons of inventory, videos and reviews, and links from various sources, such as Yahoo! Finance. They have national name recognition with immense amounts of revenue coming from dealers and advertisers, including insurance companies and other competitors like Vroom. 
So, where among all of this doom and gloom can dealers find an opportunity? 
Dealers have one thing that the third-party sites don't: localization.
Build Strategic Content and Champion Local SEO
BUILD STRATEGIC CONTENT
A major crux of Reunion's automotive SEO strategy for our dealer partners is the monthly creation of Model Conversion Pages (MCPs). These pages fulfill three deliberate purposes:
Leverage Keyword Data

Provide Consumer Appeal

Remove Friction
As previously mentioned, the keyword data informs us that searches with purchase intent at the greatest volume typically include the year, make, and model of the car, as well as modifiers like "for sale," "near me," and/or the city in which they reside. You can use these exact terms in strategic positions on the MCP, such as the heading or in the text.
You don't want to inundate in-market shoppers with too much text, especially since a greater number of people are using their mobile devices. It's still important, however, to include language directly related to the vehicle — trim, features, options — that highlight the differentiators of that model, which are important details to help Google understand that you're delivering on the consumer's intent (find XYZ vehicle) and reminds consumers of the attributes that interested them in the car to begin with.
The MCPs also remove friction from the customer journey because they have the actual inventory available at your dealership — and only your dealership — for consumers to view. Not only does this remove friction, but it also provides more internal linking and aggregates actual vehicles analogous to what third-parties do. This can help improve key metrics that demonstrate to Google you've satisfied the searcher's intent. 
When you create these pages for all new models and strategically for used car inventory, this aspect will help you win higher-intent searches.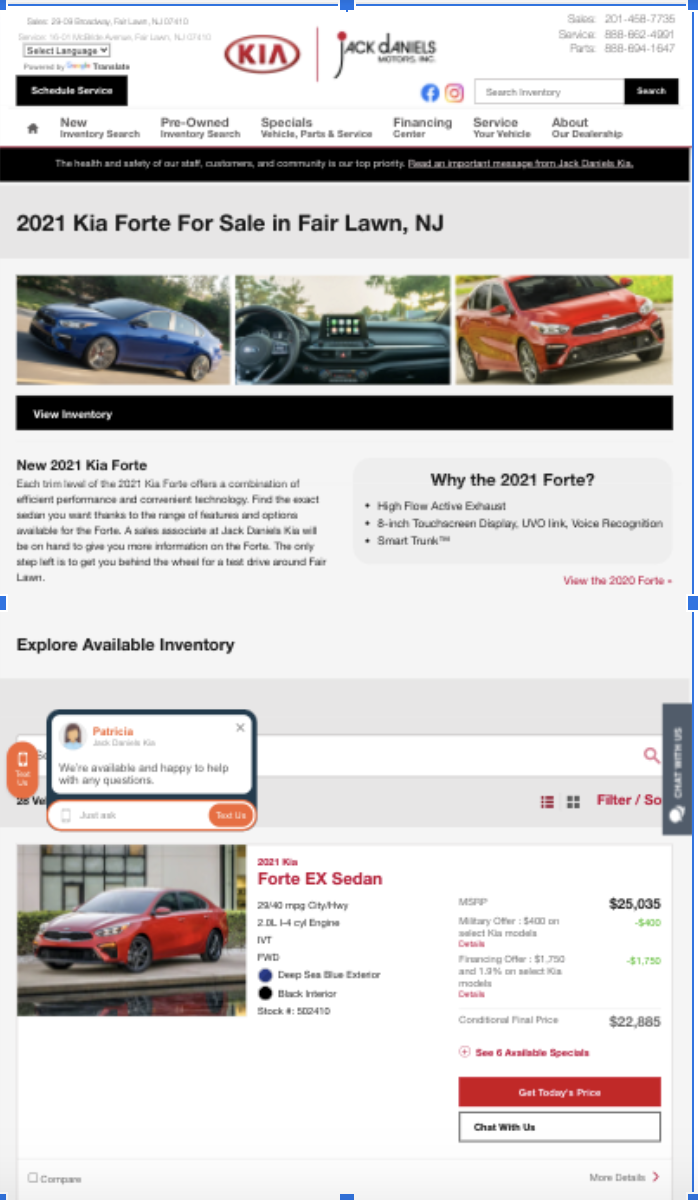 BONUS TIP
Because Google also values fresh content and linking, you can create blogs that further serve your dealership by leveraging local language and keyword data while still providing value to users and linking to your Model Conversion Pages and other important landing pages across your website. 
CHAMPION LOCAL SEO
There are a number of directories that your dealership needs to have a palpable, local presence, but none are more important than your Google My Business (GMB). With your dealership's listings separated by operation (sales, service, parts, et cetera), your GMB is a property that will trigger when a non-branded category search is entered near you because Google recognizes your location, which has been verified, and understands that you are a source to satisfy the search. 
While proximity has the greatest impact to show your GMB, it's not the only feature to do so; nor, is that the only feature for which you concern yourself. Have you … 
Selected the most appropriate categories?

Used the products section to deep link to your website?

Chosen attributes that tell more of your story?

Created your own / responded to FAQs?

Responded to reviews?
GMB is even now a destination for chat leads, for mobile and now desktop users.
Yes, your brick-and-mortar location, verified by Google, has a distinct advantage that the third-parties cannot overcome. When you couple this with a great onsite SEO strategy, you can appear in SERPs and the local map pack, taking up valuable real estate with a dominant presence that can — and does — outrank Cars.com, Autotrader, CarGurus, and more. 
What It All Means For Your Dealership
While third-party vendors are winning the SEO long-game in many markets and against many dealers, this doesn't have to be the way it is. By implementing a strong focus on relevant content to satisfy search intent, complementing that content with blogs that keep the website fresh, and having a vigilant ongoing strategy for Google My Business, your dealership can overcome the odds and take the top spot! 
But don't simply take our word for it …For more information about the strategies that can help you beat third-party sites in the SERPs, please don't hesitate to reach out to us at Reunion by phone (919) 999-8876 or at sales@reunionmarketing.com.